About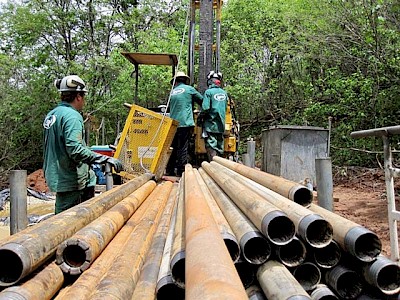 Jangada Mines Plc is Brazilian focussed resource development company. It's currently advancing the fully owned Pitombeiras vanadium titanomagnetite (VTM) project in the state of Ceará, Northeast Brazil, towards production. In April 2022, the Company published a headline 100.3% post-tax Internal Rate of Return ('IRR'), and a US$96.5 million post-tax Net Present Value ('NPV') (8% discount rate) with a 13-month payback for the Project. The report demonstrated Pitombeiras' potential to be a profitable VTM producer with no geological, economic, or legal impediment to proceeding to production.
Jangada business model is proven. It identified the Pedra Branca PGM project, where it invested in advancing the metal asset, which was then sold to TSX-listed ValOre for CS$3million and 25 million in shares. With the team in place and a proven track record of building value in resource project development, the Company maintains an active watching brief for other synergistic opportunities to supplement the existing asset suite and create shareholder value.
The Company recognises the importance of commodities focussed on the renewable energy sector and to that end, its existing vanadium pentoxide and titanium dioxide resources are highly sought after in the rapidly emerging energy transition space. Given the global importance of this sector, in addition to progressing Pitombeiras, the Company has also invested in innovative metallurgical processing company, Fodere Titanium Limited ('Fodere'). This UK minerals technology company has developed new commercial processes and applications in extractive metallurgy, to produce titanium dioxide, vanadium pentoxide and other valuable products from low-grade ores and waste stockpiles.